Gippsland Memorial Park offers three memorial garden options for loved ones from Traralgon and the Gippsland community
Our beautiful Butterfly Garden includes a landscaped garden featuring beautiful plantings with a bespoke butterfly statue at its centre and two polished black granite "Butterfly Pillars" placed for memorialising family and friends.
There are three styles of plaques to choose from. Single Butterfly plaques, Double Butterfly plaques or 3D plaques that appear to lift away to the world beyond. The Butterfly Pillar represents beauty and freedom as the butterflies' swirl away into the distance.
Families have the option of a large coloured butterfly plaque where they inter ashes or a small butterfly plaque on the Butterfly Pillar.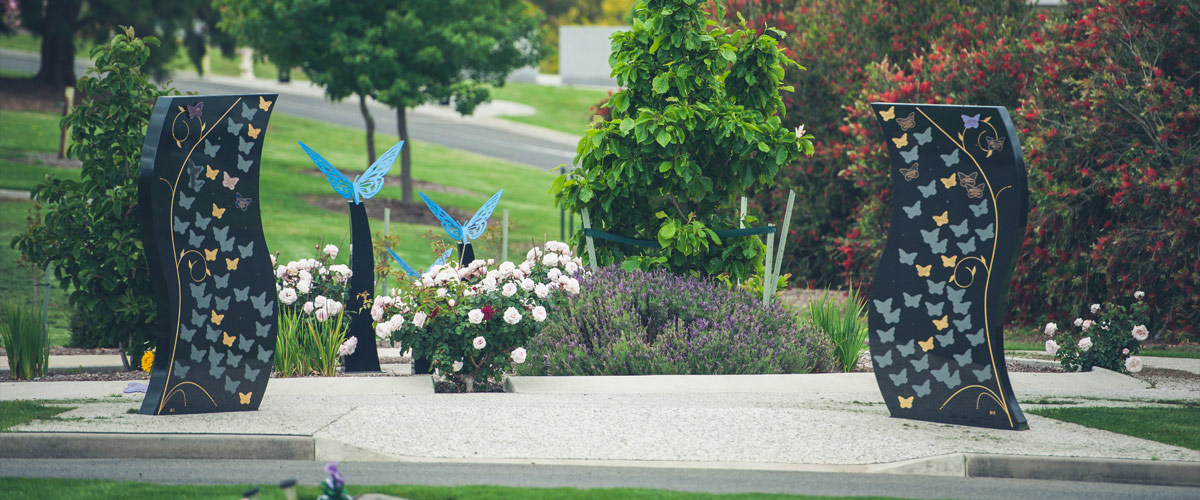 We can provide you with the opportunity to preserve the memory of friends or relatives with a plaque on the Tree of Remembrance.
The Tree was designed for families to have a place to visit to remember their loved ones.  Their ashes or burial may be located elsewhere, within the grounds of the Traralgon Cemetery, or lost to time.
The oak tree is gold etched into two solid black granite blocks in a book fold design and offers the opportunity to purchase an ornate commemorative bronze plaque which will remain there for perpetuity (always).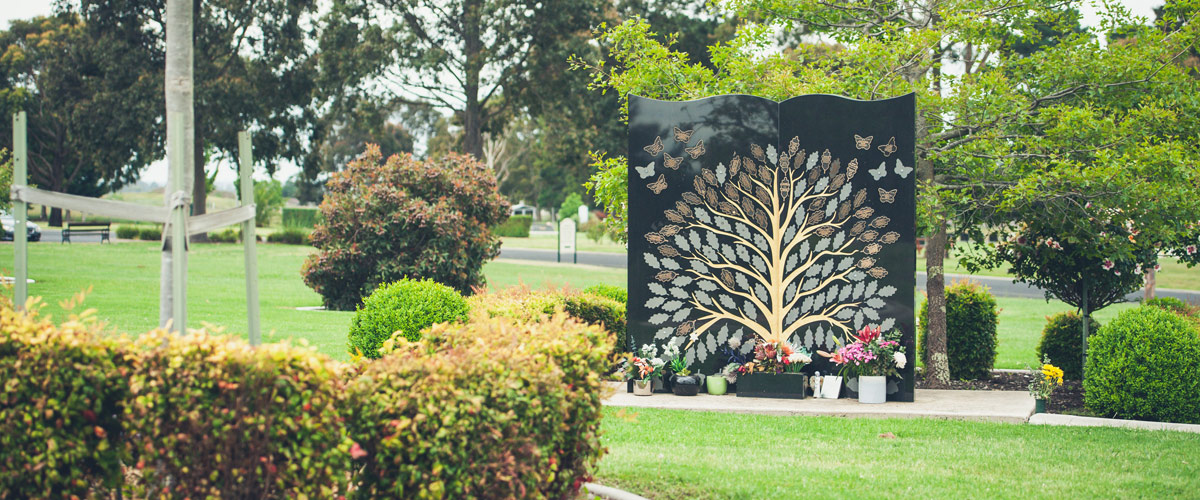 We have a number of ash interment gardens where cremated remains can be placed and you can visit and reflect in our beautiful surrounds.
Our locations feature magnificent evergreen perfumed Magnolias or Escallonias & Lily Pillies where a small plaque is placed on the concrete edging. We also have beautifully maintained rose gardens where the plaque is either placed directly at ground level or on a granite base within the garden.
You might prefer to purchase a whole tree circle which can hold up to 12 plaques for your family or a quarter of the tree circle which holds up to 3 plaques. Two plaques and interments are available for free as part of the purchase price. These areas are gardens surrounding an ornamental tree.
Another option are our Granite Niche Walls where the beautiful granite walls can hold many interments with a choice of two sized plaques.  Each location is for a single interment.
All these locations are for perpetuity and there for always.