Buried in the Old Bluff Cemetery- Pioneering family of Tyers
 Andrew was a long serving Trust Secretary and later Chairman of the Traralgon Cemetery Trust from 1880 – 1893. He is the earliest serving Trust member found to be buried at the Old Bluff.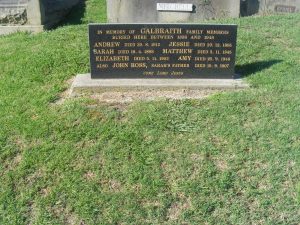 Grave location NSB-A006. Note: the headstone pictured is a recent addition to the Old Bluff. This is the original location of the Galbraith's as the original burial markers were lost to the decay of time.
Andrew and Sarah (nee Ross) Galbraith were pioneer settlers of Victoria. In 1852 aged 11 Sarah Ross and her parents left Newcastle-on-Tyne in Britain for Australia. In 1856 aged 19 Andrew departed Edinburgh for Australia. After Sarah's mother died in Melbourne the Ross family travelled the rutted track to settle in Beechworth in 1855 and in the following year Andrew Galbraith arrived in Beechworth (1856). Andrew established a bakery and confectionary business (his trade since the age of 14). Andrew and Sarah were married in 1859. In 1877 Andrew and his young wife Sarah and their family moved to Tyers taking advantage of the Government Land Act opening up settlement selections at Tyers in Gippsland (That same year the Bluff Cemetery was gazetted). Men of the Ross and Galbraith families had arrived in Tyers earlier to set up for the main family's arrival. Andrew and Sarah then followed, they made their way to Melbourne, caught passage on a paddle steamer around the coastline to Sale, then  by train from Sale to Loy Yang (In 1877 two months' before their arrival the rail line opened from Sale to Morwell).
At Tyers, they and their Father-in-law, John, selected 539 acres on a parcel of land that looked South to the Strzelecki ranges. John Ross ran the small farm and Andrew opened a successful bakery in Traralgon whilst Sarah took care of the growing family.
For education and supplies the family travelled 15 km from Tyers to Traralgon via the district Scarne near Eaglehawk (now Glengarry). The Latrobe River was at its lowest at this point and crossing it was safer here than at Tyers.
Andrew, with Sarah's support, was paramount to the development of the district. In 1882 Andrew chaired a deputation to the Shire for the building of the new Latrobe River bridge below the Bluff Cemetery. He also started the deputation to build the Tyers Primary School (built in 1879) and he started the Tyers Mechanic Institute. Andrew, in 1893, went on to build and operate the first Tyers Creamery and Butter factory and he was a member of the well known and respected Traralgon Band.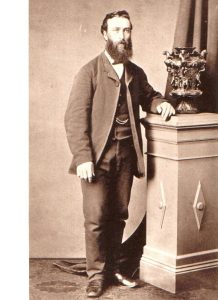 Sarah passed away in 1898 aged 56, from a brain tumour. She had cared for her father and siblings since her mother's death and had been moved to many locations, some of comfort and some as rudimentary as the new bark hut family home in Tyers in 1877. She and Andrew had seven children. Andrew was to endure more family tragedies after Sarah's death, including the tragic death of his youngest daughter, Jessie, aged 27 by suicide. He fractured his leg in 1911 which led to his declining health. He passed away aged 75 on August 30th 1912. He was buried in the Traralgon Cemetery in the same grave as his daughter, Jessie, and his father in law, John Ross.
It is of interest that when Sarah was buried at the Bluff Cemetery there had already been a burial at the same location. This being 6 months old Ross Munroe Galbraith (buried 11th of December 1895) son of John and Clementine, Sarah's grandchild. Little is known of this poor tiny baby and until recently the cemetery records indicated that he was interred in the Bluff Cemetery in an "unknown location". Sarah's Deed of Burial was found and it said that Andrew paid for an extra "2 foot" of ground-for widening the grave. This proved the plot was used prior to Sarah's burial and it was used for a smaller child (a child site is 4 foot; adult site is 6 foot). Little Ross Munroe Galbraith is now recorded as being buried with his Grandmother Sarah, together again.